Dimensions Spectacle Blinds – ASME B16.48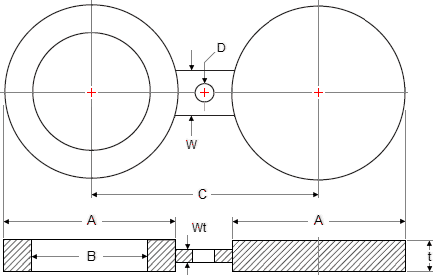 Spectacle Blind Flanges Class 150
NPS
Outside Ø
A
Inside Ø
B
Centerline
C
Thickness
t
Web Width
W
1/2
45
16
60
3
38
3/4
54
21
70
3
38
1
64
27
80
3
38
1.1/4
73
42
90
6.4
38
1.1/2
83
48
100
6.4
38
2
102
61
120
6.4
51
2.1/2
107
73
140
6.4
51
3
133
89
150
6.4
64
3.1/2
159
102
175
9.7
64
4
172
114
190
9.7
64
5
194
141
215
9.7
76
6
219
168
240
12.7
76
8
276
219
300
12.7
76
10
337
273
360
15.7
102
12
406
324
430
19.1
102
14
448
356
475
19.1
108
16
511
406
460
22.4
108
18
546
457
580
25.4
114
20
603
508
635
28.4
121
24
714
610
750
31.8
140
NPS
Outside Ø
A
Inside Ø
B
Centerline
C
Thickness
t
Web Width
W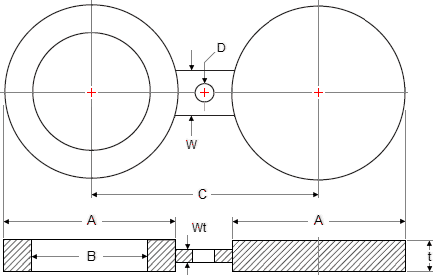 Spectacle Blind Flanges Class 300
NPS
Outside Ø
A
Inside Ø
B
Centerline
C
Thickness
t
Web Width
W
1/2
51
16
65
6.4
38
3/4
64
21
80
6.4
38
1
70
27
90
6.4
38
1.1/4
79
42
100
6.4
38
1.1/2
92
48
115
6.4
38
2
108
61
125
9.7
51
2.1/2
127
73
150
9.7
51
3
146
89
170
9.7
64
3.1/2
162
102
185
12.7
64
4
178
114
200
12.7
64
5
213
141
235
15.7
76
6
248
168
270
15.7
76
8
305
219
330
22.4
76
10
359
273
385
25.4
102
12
419
324
450
28.4
102
14
483
356
515
31.8
108
16
536
406
570
38.1
108
18
594
457
630
41.1
114
20
651
508
685
44.5
121
24
772
610
810
50.8
140
NPS
Outside Ø
A
Inside Ø
B
Centerline
C
Thickness
t
Web Width
W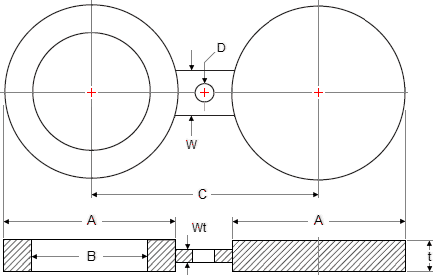 Spectacle Blind Flanges Class 600
NPS
Outside Ø
A
Inside Ø
B
Centerline
C
Thickness
t
Web Width
W
1/2
51
16
65
6.4
38
3/4
64
21
80
6.4
38
1
70
27
90
6.4
57
1.1/4
79
37
100
9.7
57
1.1/2
92
43
115
9.7
67
2
108
55
125
9.7
57
2.1/2
127
67
150
12.7
67
3
146
83
170
12.7
67
3.1/2
159
96
185
15.7
76
4
191
108
215
15.7
76
5
238
135
265
19.1
86
6
264
162
290
22.4
86
8
318
212
350
28.4
95
10
397
265
430
35.1
105
12
454
315
490
41.1
105
14
489
346
525
44.5
114
16
562
397
605
50.8
124
18
610
448
655
53.8
133
20
679
497
725
63.5
133
24
787
597
840
73.2
152
NPS
Outside Ø
A
Inside Ø
B
Centerline
C
Thickness
t
Web Width
W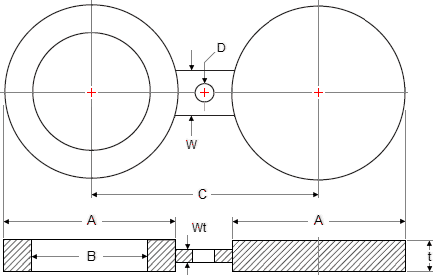 Spectacle Blind Flanges Class 900
NPS
Outside Ø
A
Inside Ø
B
Centerline
C
Thickness
t
Web Width
W
1/2
60
16
80
6.4
38
3/4
67
21
90
6.4
41
1
76
27
100
6.4
57
1.1/4
86
37
110
9.7
57
1.1/2
95
43
125
9.7
67
2
140
55
165
12.7
57
2.1/2
162
67
190
12.7
67
3
165
83
190
15.7
67
4
203
108
235
19.1
76
5
244
135
280
22.4
86
6
286
162
320
25.4
86
8
356
212
395
35.1
95
10
432
265
470
41.1
105
12
495
315
535
47.8
105
14
518
346
560
53.8
114
16
572
397
615
60.5
124
18
635
448
685
66.5
133
20
696
497
750
73.2
133
24
835
597
900
88.9
152
NPS
Outside Ø
A
Inside Ø
B
Centerline
C
Thickness
t
Web Width
W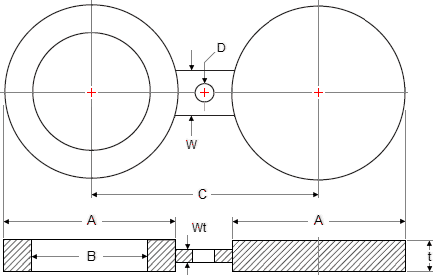 Spectacle Blind Flanges Class 1500
NPS
Outside Ø
A
Inside Ø
B
Centerline
C
Thickness
t
Web Width
W
1/2
61
16
80
6.4
38
3/4
67
21
90
9.7
41
1
76
27
100
9.7
64
1.1/4
86
35
110
9.7
64
1.1/2
95
41
125
12.7
70
2
140
53
165
12.7
70
2.1/2
162
63
190
15.7
76
3
172
78
205
19.1
76
4
206
102
240
22.4
89
5
251
128
290
28.4
89
6
279
154
320
35.1
89
8
349
203
395
41.1
102
10
432
255
480
50.8
114
12
518
303
570
60.5
114
14
575
333
635
66.5
127
16
638
381
705
76.2
133
18
702
429
775
85.9
146
20
752
478
830
95.3
152
24
899
575
990
111.3
178
NPS
Outside Ø
A
Inside Ø
B
Centerline
C
Thickness
t
Web Width
W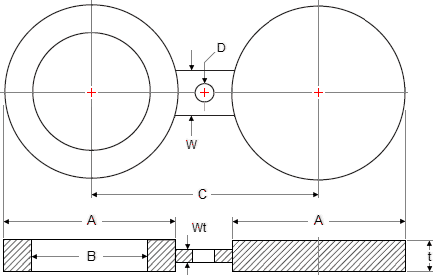 Spectacle Blind Flanges Class 2500
NPS
Outside Ø
A
Inside Ø
B
Centerline
C
Thickness
t
Web Width
W
1/2
67
16
90
9.7
38
3/4
73
21
95
9.7
41
1
83
27
110
9.7
64
1.1/4
102
35
130
12.7
64
1.1/2
114
41
145
15.7
70
2
143
53
170
15.7
70
2.1/2
165
63
195
19.1
76
3
194
78
230
22.4
76
4
232
102
275
28.4
89
5
276
128
325
35.1
89
6
314
154
370
41.1
89
8
384
198
440
53.8
102
10
473
248
540
66.5
114
12
546
289
620
79.2
114
NPS
Outside Ø
A
Inside Ø
B
Centerline
C
Thickness
t
Web Width
W
General notes:
Dimensions are in millimeters unless otherwise indicated.
D = Hole size (where required) should be the same as the flange bolt hole. In practice, these dimensions have been rounded round off upwards.
Wt = Thickness of the web (or tie bar) should be 6 mm minimum, or equal to Thickness (

t

) if less than 6 mm.
Spectacle Blinds should be made from a plate or forging specification, approved for use by ASME B31.3, of essentially the same chemical composition as the mating flanges and piping involved.
Spectacle Blinds according to ASME B16.48 may be used for installation between ASME B16.5 flanges
Depending on a customer specification, some dimensions can be different from what on this page is defined.
Remark(s) of the Author…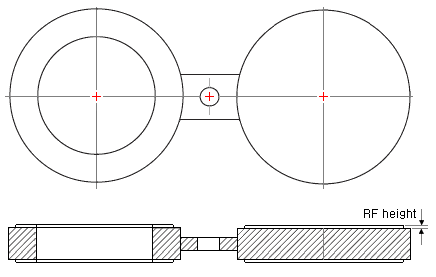 Raised Face Joint Blanks
ASME B16.48 says: The gasket seating surface finish and dimensions for raised face line blanks shall be in accordance with ASME B16.5. A raised face may be specified at the option of the purchaser.
A Raised Face would add machining time and complexity so the price would be higher. Call this the Bugatti or Rolls Royce of the line blind world.
The version without Raised Face is the default and is used everywhere.